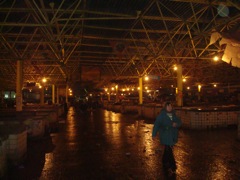 DSC00533.JPG
The farmer's market in Odessa. This is an amazing market - beautiful example of free enterprise. HUGE doesn't do it justice. It is the area of 6 football fields. This picture is only a part of the area, after it's pretty much closed down for the day. The scary thing is I've been told that there is a much larger market outside of Odessa...much much larger. I can't imagine.

DSC00534.JPG
This is typical infrastructure in Odessa - falling apart. The farmer's marketplace was like this everywhere, but it still functions. If this was in the states the health department and OSHA would shut it down!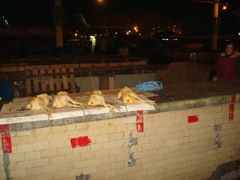 DSC00535.JPG
I asked this woman (actually Greg asked her - my Russian isn't good enough) if I could take a picture of her chickens and her. She didn't want to be in the picture, but if you look closely to the right.... These chickens I'm sure were raised in her yard and killed/plucked/cleaned this morning for sale today.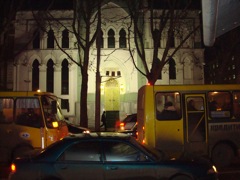 DSC00536.JPG
The local Muslim mosque.

DSC00537.JPG
Returned from work at about 10:30pm and found this tray of fruit in my room. Fresh kiwi, apple, orange, 2 types of grapes, pear, and breadsticks. Unfortunately I ate a huge lunch. I'll probably eat this for breakfast!